Layered Reality™ is the unique method we use to build our experiences using three 'layers' of multimedia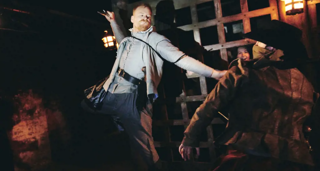 What is Layered Reality™?
Layered Reality™ combines the latest digital technology (Virtual Reality, projection mapping and volumetric holograms) together with live theatre (live actors, movie-scale sets, and special effects) plus real physical sensations (touch, temperature, smell, sound and music, physical movement, and taste) to create an unique immersive experience that is truly memorable.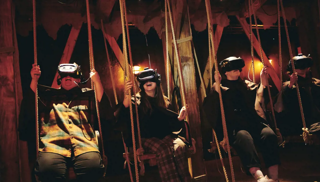 Layered Reality's Founder and CEO Andrew McGuinness explains:
"Because you've got your nose smelling something your eyes are seeing, and then you can see a 150-foot Martian fighting machine, you're really convinced that you are in that place, and you get a much more intense experience than you could ever have with one single layer. It's by bringing those layers together that the physical movement of your body tells you that this is real. This transports you to a totally new place for a couple of hours where you're immersed in another world."
Why do some memories stay with you whilst others evaporate? Research shows that four key characteristics help make a memory more powerful and 'sticky':
Shared experiences – we are more likely to remember things we've shared with others. 
Sensory experiences – when all our senses are fired we stimulate more areas of the brain, which in turn create more enduring memories.
New and different experiences – experiencing something new that you've never done before, like being confronted by a Martian Fighting Machine, or being transported back to 1605 - sticks in the mind.
Intense experiences – fear, joy, wonder, strong emotions and the intensity of a performance all make powerful memories. 
HuffPost UK talk to Founder and CEO Andrew McGuinness about how they developed the new Layered Reality™ approach. Watch the video to hear and see how it works.



Get in touch
Any questions? We're here to help. Simply fill in the form or email us at support@layeredreality.com and we'll answer within 2 working days.